Dual electronic speed controller for models 1:14 or 1:16 scale
Dual electronic speed controller for models 1:14 or 1:16 scale
Price:
$291.40
$231.00
Ex Tax: $231.00
Brand:
:
CSMI
Product Code:
Dual ESC UFR-1230-D
Availability:
In Stock
Dual ESC for tracked machines with Light functions
Speed controller for two brushed DC motors
Designed especially for tracked vehicles and ships with two drive motors
Supply voltage: 6 - 18 V
Maximum motor current: 2 x 30 A
Powerful BEC with 5,6 V, 3 A
8 switching-outputs for lights
2 ports for connecting a sound module
Optional: load regulation, mass inertia, parking brake function
Additional options adjustable with the software "Drive-Teacher"
Description
The double speed controller has been designed especially for RC tracked vehicles and ships with two brushed DC motors. Both drive motors can be controlled completely seperately or with the internal dual mixer function.
The realistic and sensitive performance guarantees a lot of driving fun.

With various setting options the speed controller can be easily adjusted to all model requirements and driving behaviours. All settings can be set with DIP switches and the software "Drive-Teacher".

The speed controller is equipped with 8 switching outputs to connect LEDs and other lights.

All light and additional functions can be controlled with

The speed controller UFR-1230-D has following characteristics:

Supply voltage 6 - 18 V
Maximum motor current 2 x 30 A (short-term 60 A)
PWM pulse frequency 20 or 40 kHz
8 switching outputs for lights (for instance for braking, driving backwards, flashing)
Powerful BEC with 5,6 V and 3 A continous current (short circuit proof)
3 proportional channels (throttle, throttle 2 or steering, and control channel)
2 Proportionalausgänge (output for sound module and steering servo)
Additional functions controllable with
Failsafe in case of receiver signal disturbances (motor stop)
Protection when switching on supply voltage
Battery voltage monitoring
Temperatur monitoring
Short circuit protection at motor output stage
---
Options adjustable with DIP schwitches:

Load regulation on / off
Parking brake on / off
Choice of battery type: LiPo / other
Teaching function (setup)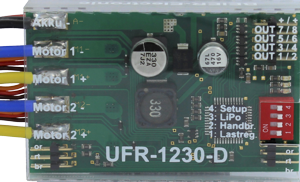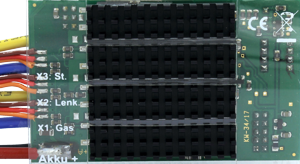 NOTES : For experienced RC users.