Volvo L250G
Volvo L250G
Price:
$7,695.00
Ex Tax: $7,695.00
Brand:
:
VOLVO
Product Code:
Volvo L250G
Availability:
In Stock
Available Options
---
Tech Support LVL1 (+$70.00)
Pre Order request (+$50.00)
RC light options (+$71.00)
Scale
1/14 RC Scale
RC Wheel loaders
Important Note: Due to the size and weight of this product, this product has to be shipped in its own container. It will be shipped only by Expedited Shipping Service (5-8 days), this requires an extra shipping surcharge to ship to all international countries due to the size and weight.
Payment Information: Due to the value of this product, all customer must pay with bank transfer. When you check out, do not choose credit card or paypal, we will refund you. Make sure choose bank transfer instead. Feel free to email us if you have any questions.
Important Note: This product is for experienced R/C users. Not recommended if you just started with R/C.
Officially licensed Volvo L250G.
This model is ready to run comes painted in standard VOLVO colours and rock bucket.
NOTES : Does not include sound lights radio and certain acceories as shown in the pictures below.
Model Details :
– 4 mm thick CNC-milled brass frame
– Cabin, bonnet and mud-flaps made of robust plastic
– Loader boom made from 5mm aluminium- Lot of details made from brass precision casting
Drive:
– The power drive is a powerful Faulhaber motor
– The power is boosted by the 2-gear transmission
– Transfer to the 11,25:1 planetary hub reduction axles by means of steel drive shafts
– Front and rear axles can be locked as an option – Tyres on aluminium wheels
– Steering (as on the original) uses two hydraulic cylinder
Hydraulic system:
– Hydraulic pump driven by a brushless motor via a toothed belt
– Servo-controlled hydraulic valves
– Completely demountable hydraulic cylinders with multiple sealing and hard-chromed piston rods
– Large-volume tank; special internal geometry to ensure oil flow also in a tilted position; no foaming, no temperature problems
– Operating pressure 24 bar
Electronic system:
– Lighting: ultra-bright LEDs
– Switch-on board with BEC, LiPo monitoring and circuit breaker
– Battery needed is Lipo or 12v NMH
Size:
– Lengh with fix rock bucket : 690mm
– Wide: 250mm
– High: 255mm
– Weight: 13,5kg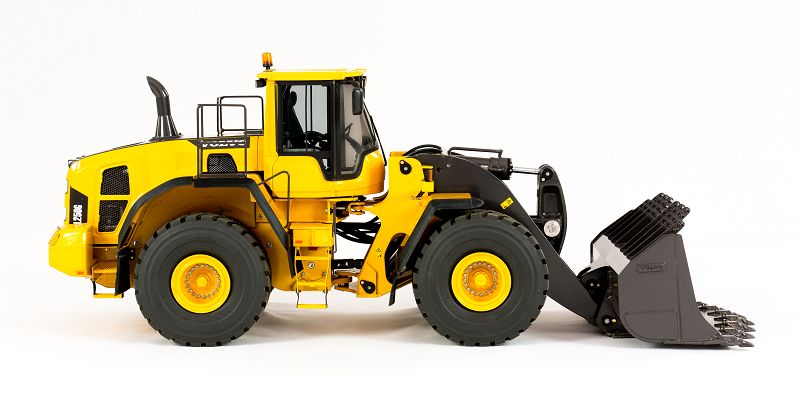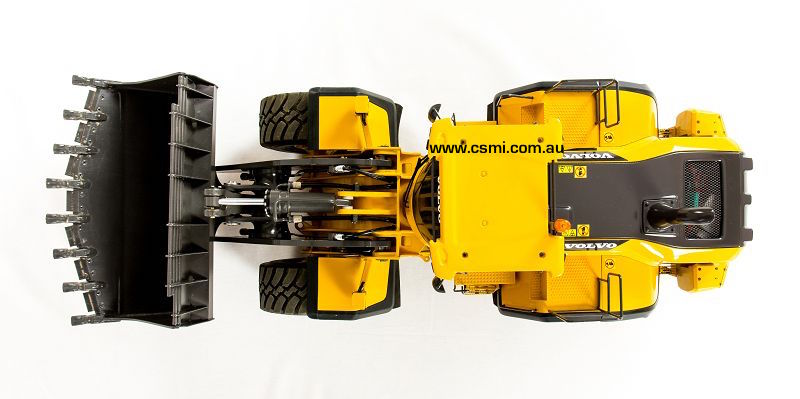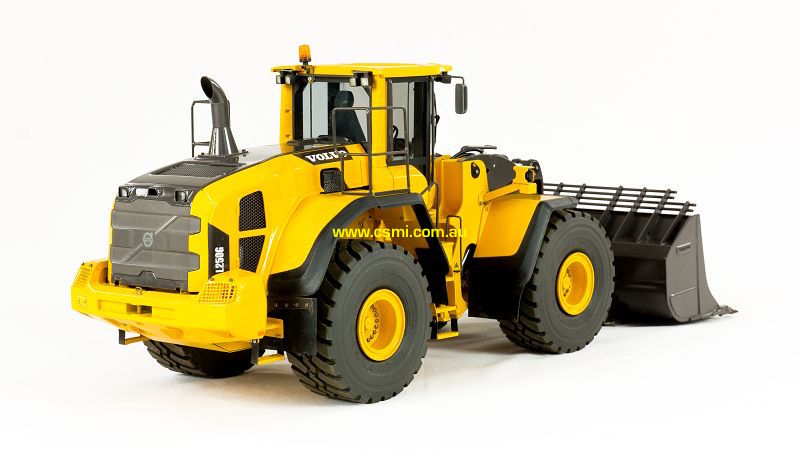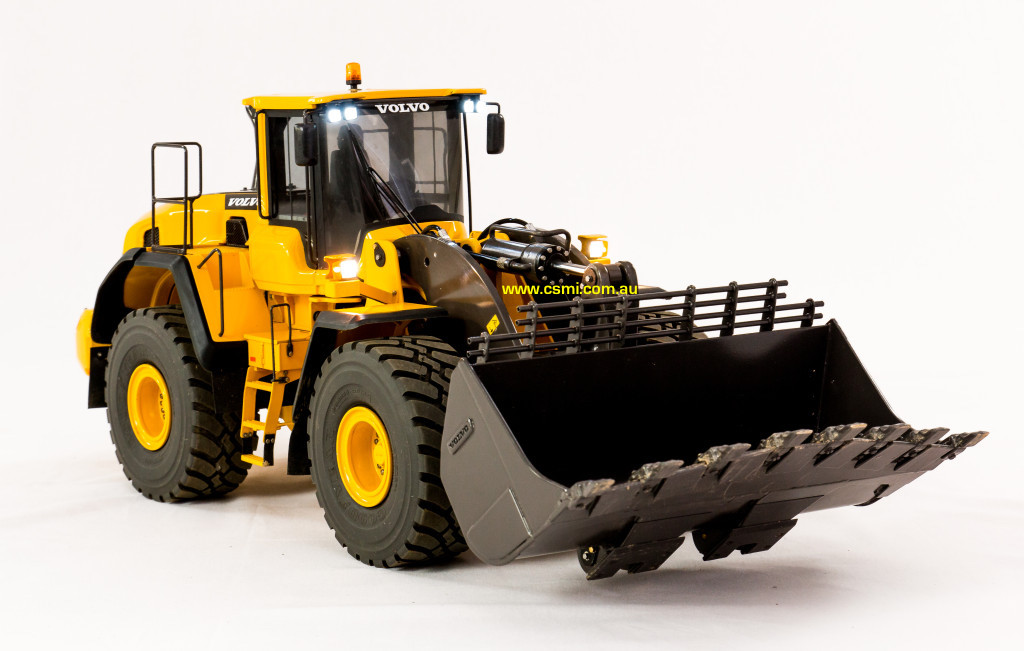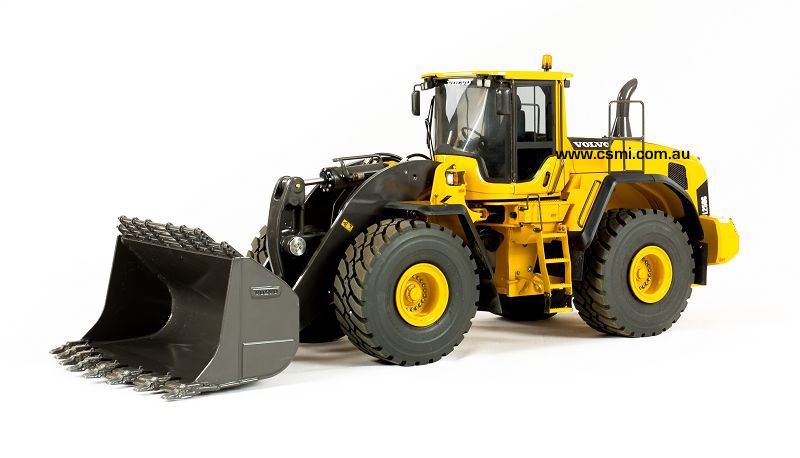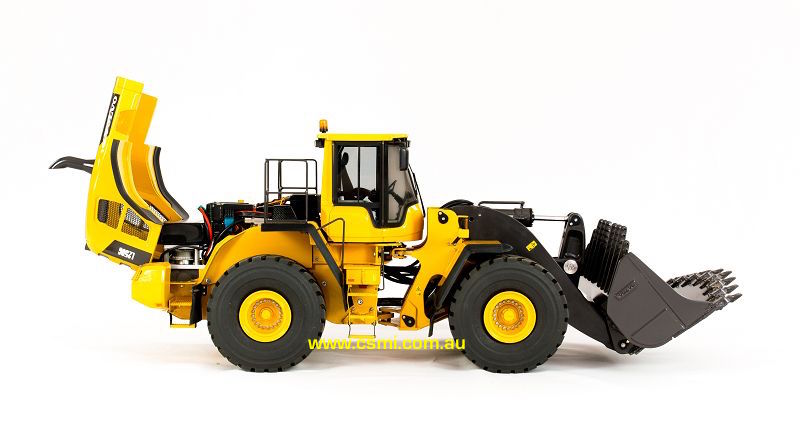 .
Show below is the model with SA5000 Commander radio . This is optional extra.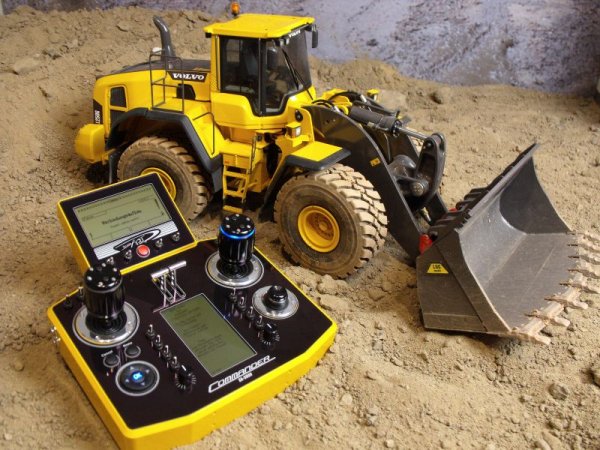 .
The below image is of a optional radio can be included seperately. Please select this as a option if you need this radio from the above options.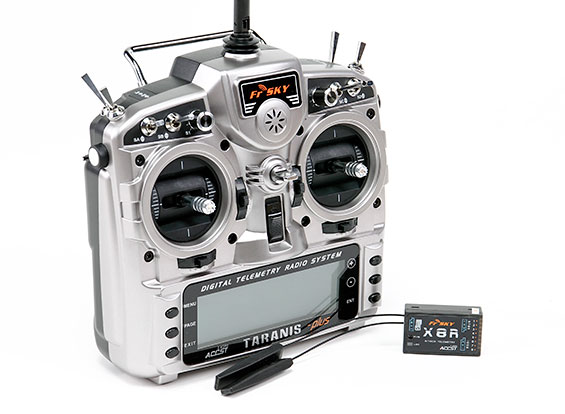 Scale
1/14 RC Scale
RC Wheel loaders