US MILITARY SERVICE TRUCK
US MILITARY SERVICE TRUCK
Price:
$1,120.00
$835.00
Ex Tax: $835.00
Brand:
:
CSMI
Product Code:
US Military truck SERVICE TRUCK
Availability:
In Stock
Available Options
---
Freight Must be selected (+$50.00)
Scale
1/10 RC Scale
Military Trucks
THIS IS A FULL READY TO RUN TRUCK
HG P801 P802 1:12 2.4G 8*8 M983 739mm Rc Car US Army Military Truck Without Battery Charger RC Distance 100m 550 Brushed Motor
Standard Version:
Features:
Central transmission secondary mechanical gear position is adjustable (upgradable remote adjustment)
The chassis of the vehicle is made of zinc alloy
The front and rear axles adopt a conical gear to straight tooth high-load reduction transmission structure
Spring steel plate shock absorber + telescopic double shock absorption
Variable stroke ball type universal joint shaft
Front and rear independent link type bridge system
8 rounds full-time drive, large traction can pull all kinds of equipment
Steering gear control disc can be freely disassembled
1/12 full scale rc car model
The first 4 wheels adopt the wire rope pulling structure to realize the four-wheel synchronous steering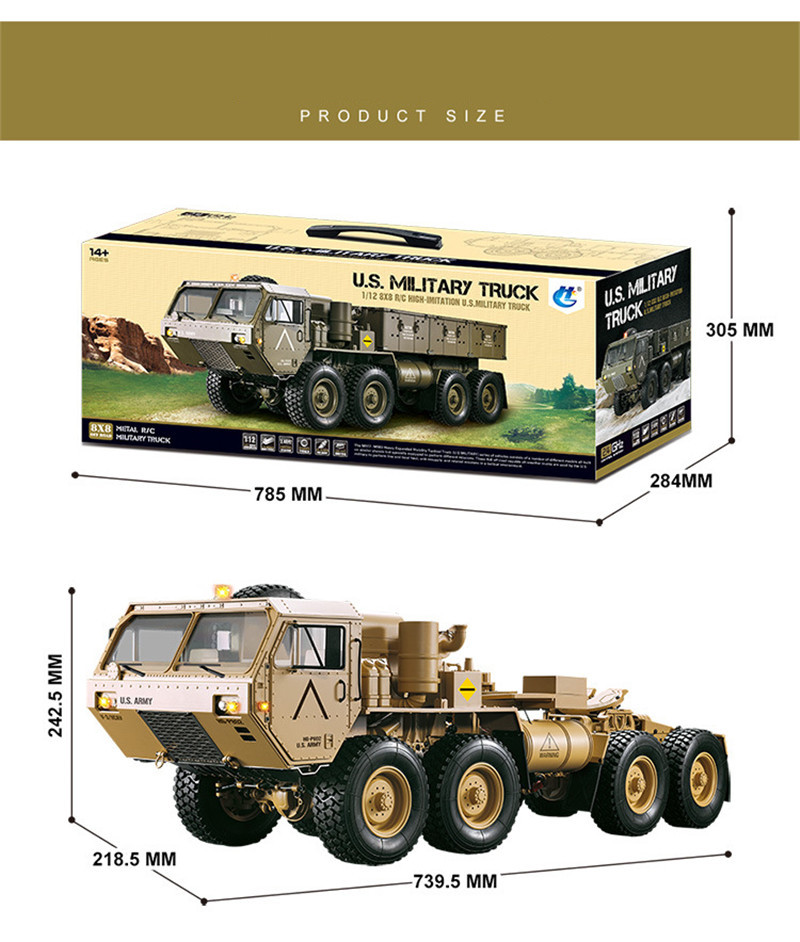 BELOW PICTURE FOR REFERENCE OF PARTS ONLY !!!
Scale
1/10 RC Scale
Military Trucks