SOLD OUT Graupner MC-20 12ch 2.4ghz HoTT Radio System
SOLD OUT Graupner MC-20 12ch 2.4ghz HoTT Radio System
Price:
$900.00
$375.00
Ex Tax: $375.00
Brand:
:
FUTABA
Product Code:
Graupner MC 20
Availability:
Out Of Stock
Available Options
---
Freight Must be selected (+$60.00)
Radio Transmitters
Radio
2.4 Ghz
Scale
1/14 RC Scale
Radio
SOLD OUT
MC-20 12ch 2.4ghz HoTT Radio System​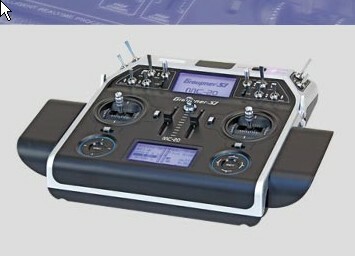 Overview:
The mc-20 HoTT with its 12 control functions and new internal patch antenna can give experienced RC model builders control over virtually any model. The use of HoTT 2.4 GHz transmission technology safeguards high functional reliability through bidirectional communication between transmitter and receiver supporting integrated telemetry, voice output via loudspeaker or headset connector and ultra-fast response times.
The transmitter has 24 model memories. Programming is simplified by a programming technique implemented with capacitive touch buttons. Two high-contrast, 8-line blue-illuminated graphic displays ensure a perfect display of all parameter settings and telemetry data. It is possible to store telemetry data and an extension of model memories on a micro SD memory card.
USB connection to read and write the model's memories as well as for firmware upgrades.

Specifications:
Control function: 12
Temperature range : -15 ... 55 ..C
Aerial : Patch
All-up weight, approx : 1400 g
Frequency : 2400 ... 2484,5 MHz
Range approx. : 3000m
Dimensions (LxWxH): 235 (315) x 228 x 66 mm
Charging rate : 400 mA
Operating voltage : 3,4 ... 6.0 V
Characteristics:
. Microcomputer remote control set implemented with the very latest 2.4 GHz HoTT technology
. Ring limiter and channel sequencer
. Bidirectional communicationbetween transmitter and receiver
. Wireless T/P function
. 6 different languages (German, English, French, Italian, Spanish and Dutch) available via software update. For the availability of a given language, go to the Download area.
. Storage of telemetry data with date and time
. Servo cycle times of 10 ms can be selected for digital servos
. Ultra-fast response times through direct and reliable transmission of data from the main processor to the 2.4-GHz transceiver. No additional delays due to detours via a module processor.
. Operating and programming are similar to the proven concepts implemented in the mx-24
. A high-contrast, blue-illuminated graphic display ensures perfect control of parameter settings such as model type, model memory, timers and operating voltage.
. 12 control functions
. Free assignment of all switches
. 24 modelmemories
. 10 switches/keys, including two long 3-position switches, four 2-position switches, 2 long keys, 2 keys on the rear and 2 slider regulators as well as 2 side rotary controls
. Modes 1 to 4 freely selectable
. CAP TOUCH operating elements with key lock function to prevent unintentional operation.
. Numerous telemetry, programming and evaluation functions are presented directly on the transmitter's screen
. Voice output can be called up via freely programmable switches
. Extensive programs for fixed-wing and helicopter models
. Swashplate limiter
. "Monitor" switch to check all switches and control switches
. 12 freely programmable mixers for wing or helicopter models, each with freely selectable input and output functions, including 4 curve mixers with 5-point curve technology in 1% increments, resulting in curve values that are easy to set and adjust at up to 5 points for throttle, pitch, tail or other non-linear actuations. The processor in the CPU employs an ingenious method of calculating

General HoTT characteristics:
. Simple and extremely fast binding
. Range test and warning function
. Undervoltage warning
. Extremely wide receiver operating voltage range of 3.6 V to 8.4 V (functional up to 2.5 V)
. Fail-safe, freechannel assignment (channel mapping), mixer functions and all servo settings are easy to program with the internal telemetry
. Binding of any number of receivers for channel expansion (32 channels maximum)
. Up to 4 servos can be controlled simultaneously as a block in a servo cycle time of 10 ms (digital servos only)
. Maximum noise immunity due to optimised frequency hopping and wider channel spread
. Intelligent data transfer including error correction
. Extremely fast rebinding, even at maximum distance
. Real-time telemetry evaluation
. More than 200 systems can be used simultaneously
. Update capability via USB interface or micro SD card guarantees future viability
Safety:
FHSS, frequency hopping over up to 75 channels
Maximum interference immunity through optimised frequency hopping, wider channel spread and antenna diversification
Intelligent data transfer including error correction
Extremely wide range
Range test and warning function
Undervoltage warning
Extremely wide receiver operating voltage range of 3.6 V to 8.4 V (functional up to 2.5 V)
Numerous fail-safe functions
Key-log function to prevent unintentional changes to menus
Precision:
Shorter response times can be set (10 ms period time)
No additional delays due to module processors All hopping management is handled directly by the 32 bit main processor.
Synchronous servo operation made possible by simultaneous control of servo outputs in blocks of 4

Pilot feeling:
Essentially delay-free control responses due to direct processing
Real-time telemetry evaluation
Optional voice output for timers, telemetry data and warnings via headset connector
Repeat function and continue function for voice output can be programmed via freely assignable switches
Pre-selection of voice output to be used
Separately adjustable volume for beeps and voice output
Integrated telemetry display with 8 x 21 characters or 128 x 64 pixels, optionally in text or graphics form
Duration of display lighting: ALWAYS, 30 s, 60 s, 90 s, 120 s
Micro SD card slot for storage of telemetry data similar to a black box and for expansion of model memories
PC software for analysis or display of downloaded telemetry data
Buzzer signal programmable for peak T/P function receiver output, satellite receiver, simulators, flybarless stabilization systems, etc.
Model-memory-dependent binding, except for copied model memories
Wireless teacher/pupil function
3 flight phases programmable
Swashplate limiter
Motor off function
Numerous fixed-wing and helicopter mixers
Package Contents:
HoTT mc-20 microcomputer telemetry transmitter with built-in LiIo 6000 mAh transmitter battery
HoTT GR-24 receiver
500 mA transmitter charger
update cable
SD card/aluminium case/hand rests/neck strap/short & long Joystick/TX Strap
(GR33020)
Radio Transmitters
Radio
2.4 Ghz
Scale
1/14 RC Scale
Radio