Volvo Dumper A60F-M
Volvo Dumper A60F-M
Price:
$999.00
Ex Tax: $999.00
Brand:
:
VOLVO
Product Code:
Volvo Dumper A60F
Availability:
In Stock
Available Options
---
Tech Support LVL1 (+$70.00)
Scale
1/14 RC Scale
RC Dump truck
VOLVO A60H articulated Dumper
The VOLVO A60H model is a hydraulic conversion of the Bruder plastic toy in 1/16 scale.
Traction driven by a gearbox. Each one of the three axel is driven by a rigid shaft.
Complete hydraulics .
The model is sold assembled, as you see in the pictures (READY TO RUN!), depending on the options selected.
Equipment NOT included:
Transmitter and receiver.
Battery (Lipo 7.4V).
Charger.
Sound and lights are not included as default (select the option above to add these features to your model).
IMPORTANT: The correct operation of the models purchased without transmitter are customer's responsibilitye, since a bad setup of the transmitter can damage the model.
SPECS:
Scale: 1/16
Weigth: 3.4Kg.
Dimensions below pic
​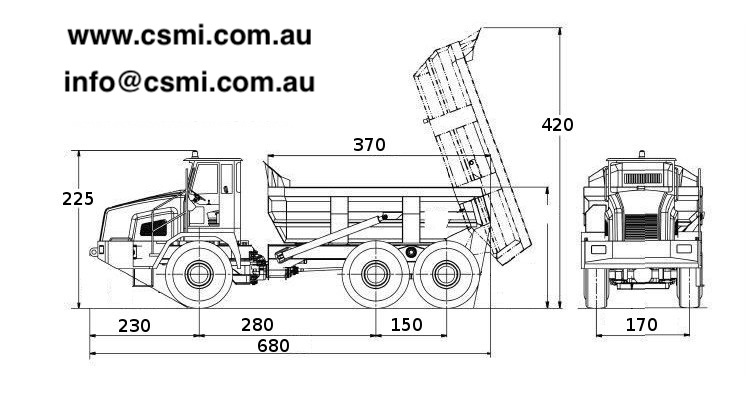 .
Scale
1/14 RC Scale
RC Dump truck