Liebherr R960 SME Basic Kit
Liebherr R960 SME Basic Kit
Price:
$7,975.00
Ex Tax: $7,975.00
Brand:
:
LIEBHERR
Product Code:
Liebherr 960
Availability:
Available Options
---
L960 options (+$1,465.00)
L960 options (+$1,700.00)
L960 options (+$1,100.00)
Radio (+$1,749.00)
Radio (+$2,950.00)
Radio (+$1,495.00)
Radio (+$1,059.00)
RC Models
RC Excavator
CSMI
Scale
1/14 RC Scale
RC Excavators
Important Note: Due to the size and weight of this product, this product has to be shipped in its own container. It will be shipped only by DHL Shipping Service (5-8 days), this requires an extra shipping surcharge to ship anywhere internationally due to the size and weight.Price is in USD for this Item !Order is placed after prepayment.
Payment Information: Due to the value of this product, all customer must pay with bank transfer. When you check out, do not choose credit card or paypal, we will refund you. Make sure choose bank transfer instead. Feel free to email us if you have any questions.
Important Note:This product is for experienced R/C users. Not recommended if you just started with R/C.The model does not include any of the options listed above. If need any of those you need to select them. The model comes painted and assembled with hydraulics. No Radio or rx.
Data Liebherr crawler excavator R 960 Basic kit

The original
With an optimal blend of productivity and precision that tracked excavator r960 allow work in a variety of construction- or quarry operations. Thanks to their proven hydraulic concept and its various modes of operation, the excavators from Liebherr always adapt to your needs. Thanks to the attachment geometry and the performance of the hydraulic system unfold tracked excavator r960 very high digging forces. The generously dimensioned cylinders guarantee an increase in productivity even in hard material.

The scale 1: 14.5
The crawler excavator is extrem highly detailed and the features of the original are converted to a new level of sensitivity and performance. It uses only the best materials. Model is available as a finished model as well as a kit.
Measures and weight:
Length of undercarriage: 398 mm
Width chain drive (inside): 265 mm
Gauge track running gear; 200 mm
Height chain drive: 85 mm
Maximum grave depth: 540 mm
Height to canopy: 245 mm
Width superstructure: 206 mm
Weight of the excavator: 26-27 kg +
Construction and materials used
Undercarriage HD steel and brass, CNC turned and milled drive components
Prestressed turntable milled with four-point bearing steel, CNC, all steel gears C45
Superstructure plate from 6mm steel (3mm two plates screwed)
Superstructure cladding 3D printing components of the finest detailing
Arm made of sheet steel with die-cast zinc, Scale Parts
Handle made of aluminum, sandwiched and zinc die cast parts Scale
A-frame made of aluminum with GTS bearings points for all pivot points
Throughout 8 mm bolt for all working equipment
provided all bearings with plain bearings
bucket out of steel with casted bucket teeth
Chains: three or two grouser track chains in perfect detailing of metal
Turndrive:
Preloaded backlash-free slewing ring
Swivel drive Direct Drive: Direct connection of drive motor with intent planetary gear to the ring gear teeth without deflection etc. (minimalstes tolerances in rotary drive, higher performance and more sensitive in the controller)
Rotary drive 40% more power as the R 944B and more sensitively.
Superstructure:
massive 6 mm steel plate
Superstructure in Premiumdetailierung (100% scale)
Cab with all the details as the original: cupholders, driver's seat with armrests, Liebherr joystick, coolbox, radio, air vents etc.
Cabin door open
A Bock very equipped of 5mm aluminum with sliding bearings
Drivetrain technic undercarriage (selectable only with basic kit)
Chain driven by two independently controllable Faulhaber Brushless motor with Faulhaber planetary gear via bevel gears and roller chains on the sprocket
Track Drive: PREMIUM Faulhaber industrial engines with precision steel planetary gearbox installed in the aisles;
Multiple ball bearing shafts and drive elements and all steel gears
Chain tensioner made of steel and aluminum self-tightening
Hydraulic unit (selectable only with basic kit)
Industrial hydraulic pump of the company JUNG Fluidics in cooperation with Kampshoff / PREMACON Silent Drive. (Quietest pump drive in competition)
Hydraulic valves made of hardened steel the company PREMACON / JUNG Fluidics. It is operated by Hitec servos brand
Multiple sealed, completely removable hydraulic cylinder with hard-chromed piston rods
Piston rods now 8mm in diameter from Scale reasons and for more efficient oil volume control on the piston side
Bucket cylinder with about 40% more power as on the old R944B
Large capacity tank approx 350ml; special internal geometry to ensure the oil supply even at lean angles
no foaming, no temperature problems by Premacon passive Cooling System
Oil filter in the tank as standard.
Working pressure 28-30bar +
Electronics: (selectable only with basic kit)
Specially adapted for the pump motor controller parameters
Servonaut MFX controller for chain drive and pivot drive
Industrial rotary feedthrough for endless rotation of the superstructure
Special POWER LEDs as headlights
Power BEC
Hitec servos brands for hydraulic valve control
Operating voltage: 12 V NiMH or 3S Lipo cells
Special equipment or accessories: (selectable only with basic kit)
- hydraulic quick coupler
-Additional hydraulics (2 additional hydraulic connections on the stem with the flow and return
incl. 2 additional Hydraulic valves, piping and hydraulic coupling)
- Chain drive referrers Heavy Duty
- Scale Package: Photo Etched set for all ventilation spaces
- special paint
Special equipment and accessories:
- Stone guard for cab completely (roof and windscreen)
- individually rockfall protection either roof or windscreen
- mechanical Quick coupler
- scale lights package: additional light on the boom and the cabin
- two grouser track chain (standard)
- sound module (original LIEBHERR Sound)
Recommended Transmitter:
Computer remote control with at least 8 proportional channels.
In connection with the 10 additional hydraulic proportional channels necessary.
In conjunction with hydraulic quick coupler and auxiliary hydraulics 11 proportional channels are necessary
To control the sound module No. 18000018 or 18000019 4 proportional channels are required in addition.

Shipping costs Vary and will be quote on order.

2000 euros deposit when ordering a special color

The pictures show the finished model with optional extras. The basic kit is unpainted and not delivered fully assembled.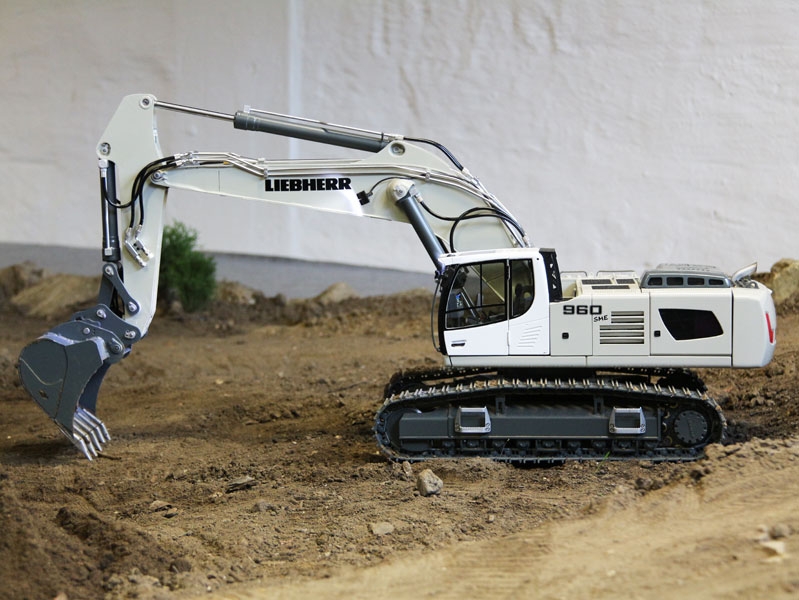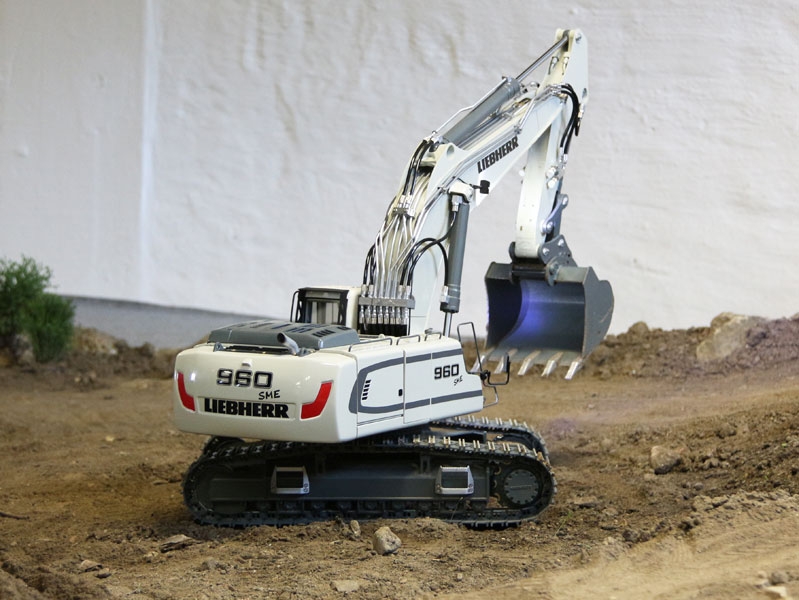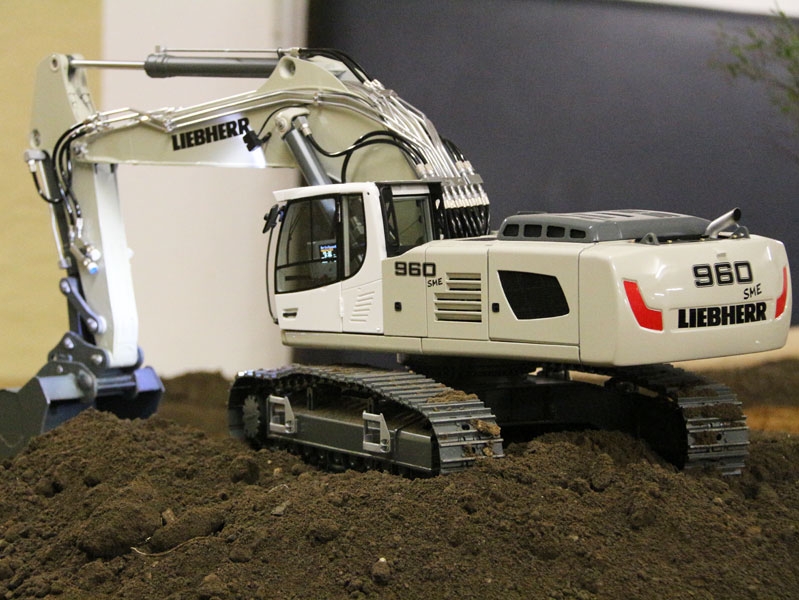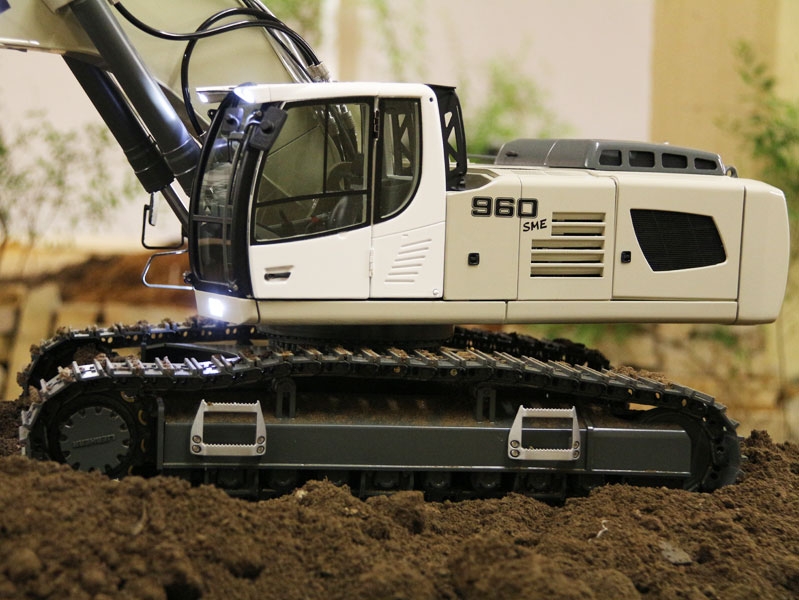 .
RC Models
RC Excavator
CSMI
Scale
1/14 RC Scale
RC Excavators