WL870 RC Wheel loader 1.5 Ver
WL870 RC Wheel loader 1.5 Ver
Price:
$3,572.00
$2,700.00
Ex Tax: $2,700.00
Brand:
:
CSMI
Product Code:
WL870 1.5 Ver
Availability:
In Stock
Available Options
---
WL attachments (+$195.00)
Tech Support LVL1 (+$70.00)
Lighting switches (+$65.00)
WL attachments (+$260.00)
Pre Order request (+$100.00)
RC light options (+$20.00)
RC light options (+$71.00)
Scale
1/14 RC Scale
RC Wheel loaders
PLEASE NOTE PICS SHOW THE OLDER VERSION. THE LATEST VERSION WILL BE SHIPPED OUT.
PLEASE LET US KNOW WHAT COLOR YOU WOULD LIKE
1) YELLOW WITH WHITE CAB
2) FULL YELLOW
3) FULL WHITE
Important Note: Due to the size and weight of this product, this product has to be shipped in its own container. It will be shipped only by Expedited Shipping Service (5-8 days), this requires an extra shipping surcharge of $300 to$450 to ship to all international countries due to the size and weight.
Payment Information: Due to the value of this product, all customer must pay with bank transfer. When you check out, do not choose credit card or paypal, we will refund you. Make sure cho ose bank transfer instead. Feel free to email us if you have any questions.
Important Note:This product is for experienced R/C users. Not recommended if you just started with R/C.
These machines need skill for adjustments even after shipped from the factory this is the condition of sale.Please consider this carefully before purchase .
All RC models have come with 30 day warranty . Warranty will be covered only when supported by pictures videos .Claims will accessed by our engineering dept or makers department.These machines need skill for adjustments even after shipped from the factory this is the condition of sale.Please consider this carefully before purchase .If you do not have tools , Skills , RC knowledge, Ability to change damage spare parts IMPORTANT THIS MODEL IS NOT FOR A BEGINER.
GOLD PACK : This serivce is for customer who have limited RC experience. The machine is checked and tested by us. A full function test Video is made showing all working functions. The gold pack does not cover damage to eletrical parts. Once shipped any replacement of parts can only be done once the machine is shipped back to us. The customer take ownership of being able to replace any non functional part either by self or external source. The GOLD PACK is a secondary test option tested and doucmented by us for your satisfaction. If a fault is found during this test will fixed , retested and sent to you.
Specifications:
CNC Machined Metal parts
Molded Steel bucket
6 channel 2.4Ghz radio
Optimized Steel Hydraulic system
Scale operator station (can fit a driving figure)
Massive 29.5-25L-5 Tires
Reliable hydraulic valve and adjustable pump
Heavy Duty Hoses (OD 4.5mm Nylon, ID 2.5mm)
Powder coated in yellow
Brushless system (hydraulic)
60A brushless ESC with BEC
Kv brushless monster torque Motor
Realistic non functional disk break
Scale ABC plastic interior
Wheel with planetary gearbox build-in
2 speed full metal transmission (1:16 and 1:4 gear ratio)
Realistic full metal Axles
Run time is: XX minutes (XXXXmAh Battery)
Steel Machined oil pump (45mm X 30mm X 15.5mm)
Bucket capacity:
Maximum bucket force: 70kg / 154pounds
Driving Speed: XXX meter per hour
Scale: 1 : 14
Length: 741mm / 29inch
Width: 276mm / 11inch
Height: 276mm / 11inch
Maximum bucket Height: 461mm / 18inch
Maximum bucket up and down angle: 46 to 64 degrees
Maximum bucket left and right angle: 38 degrees
Wheel base: 284mm
Dead Weight: 20.5kg / 45lbs
Total mass load: 32kg / 70lbs
Operating oil pressure: 25Bar, 362psi
30 days limited warranty as per maker conditions.
OPTIONS :
1) ML4 : ML4 Light switch is installed complete with LED 2 rotating beacons including mounting brackets .This switch actvates Low beam High beam turn indicators and hazard lights. DOES Not GIVE ACTIVATE BRAKE AND TAIL LIGHTS. Use S22 option.
2) S22 : S22 is an upgrade German speed controller. This can handle both NICAD and LIPO. Once installed will give you brake and tail lights.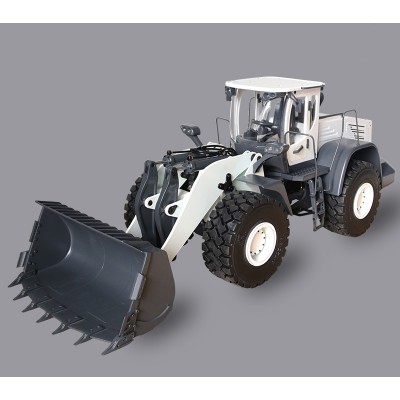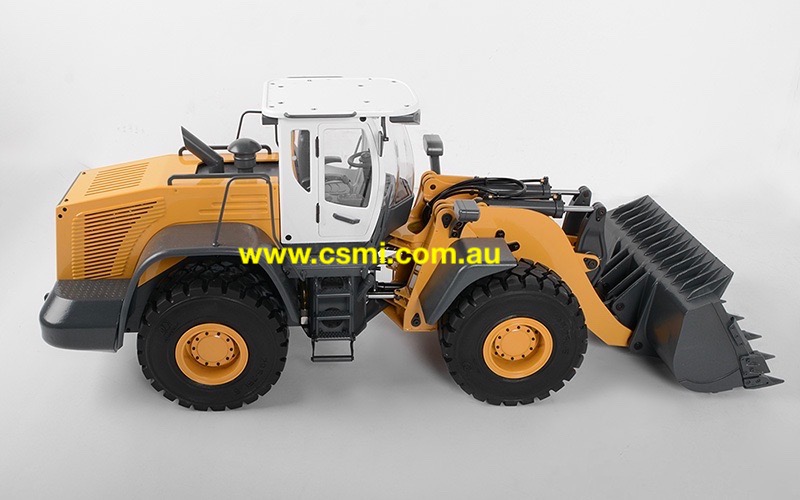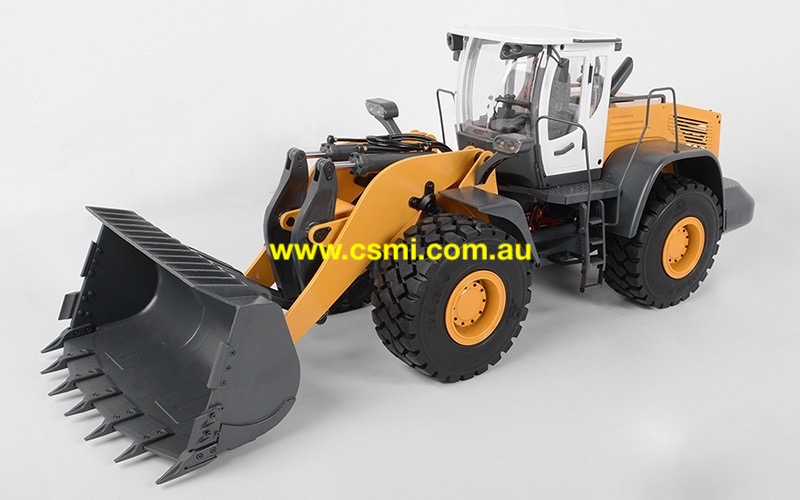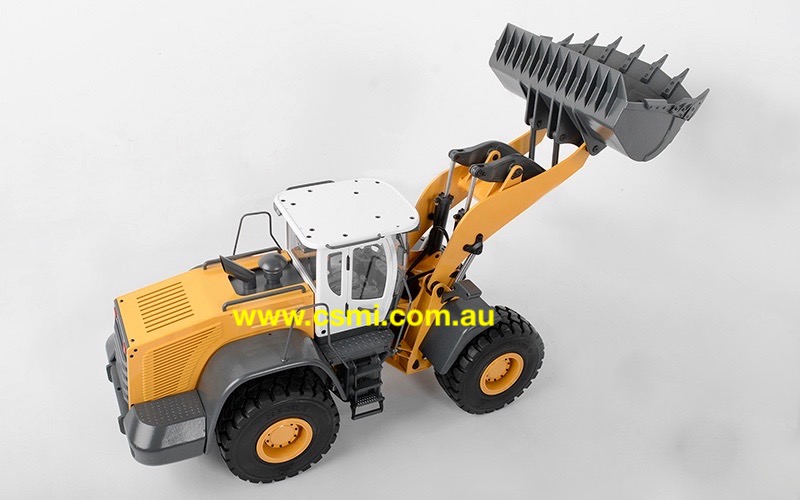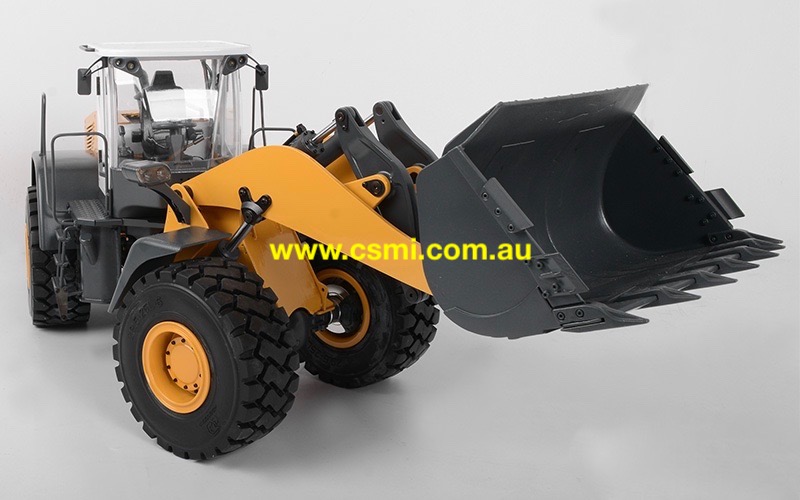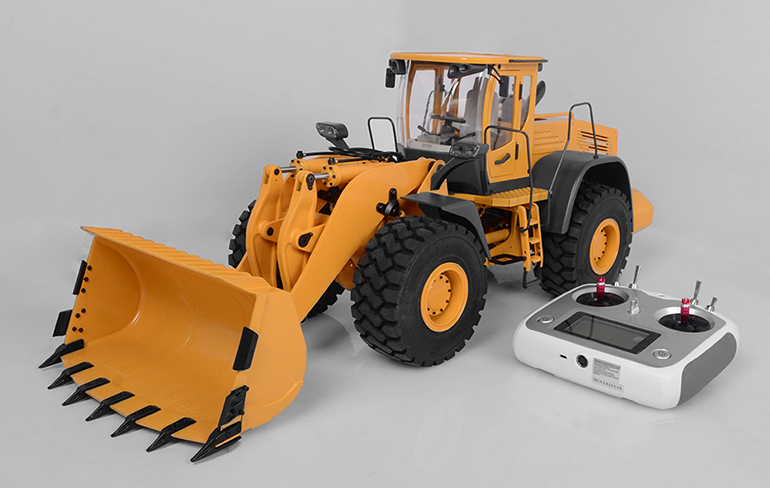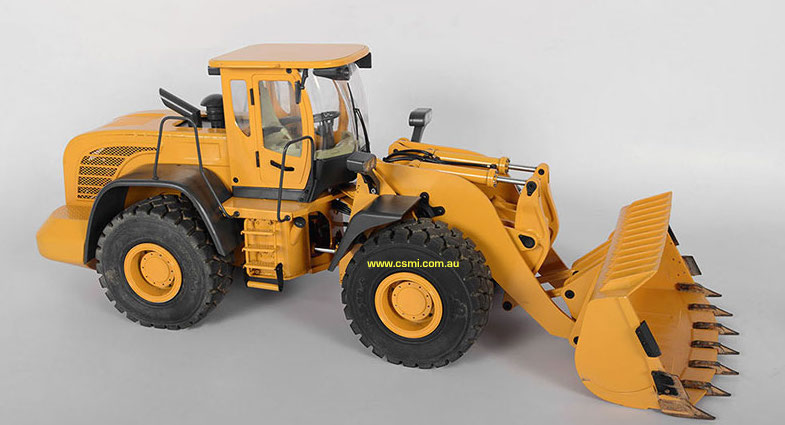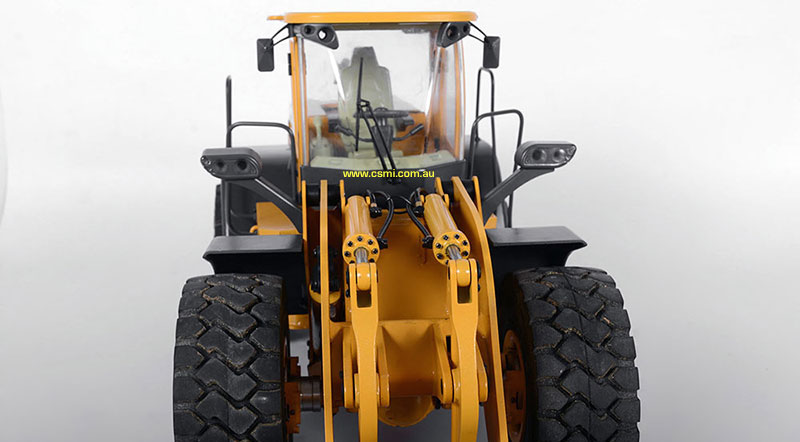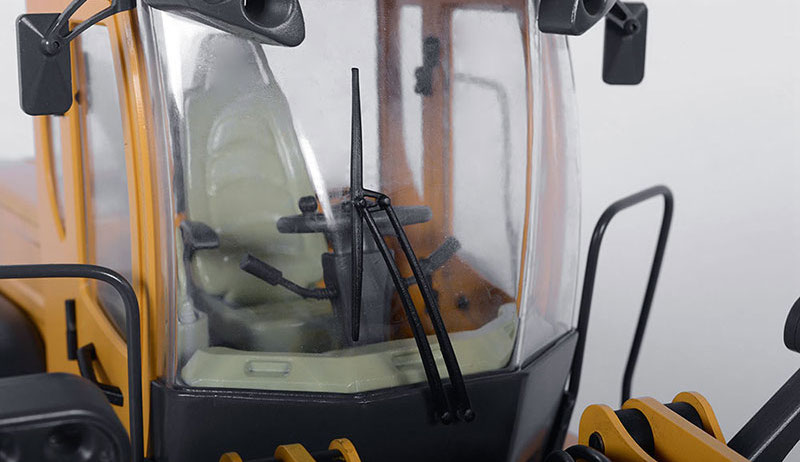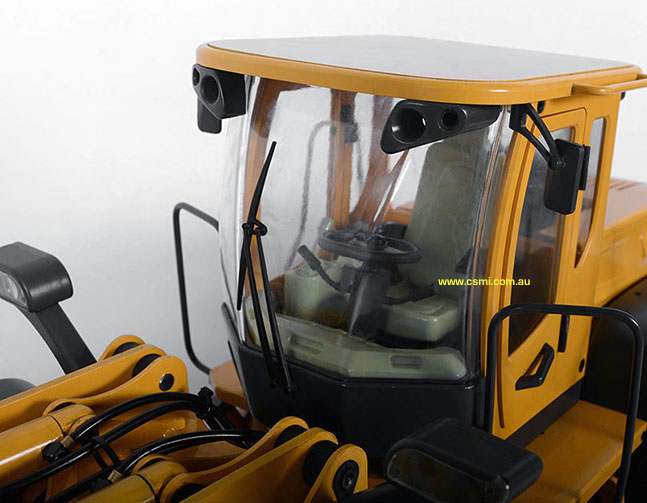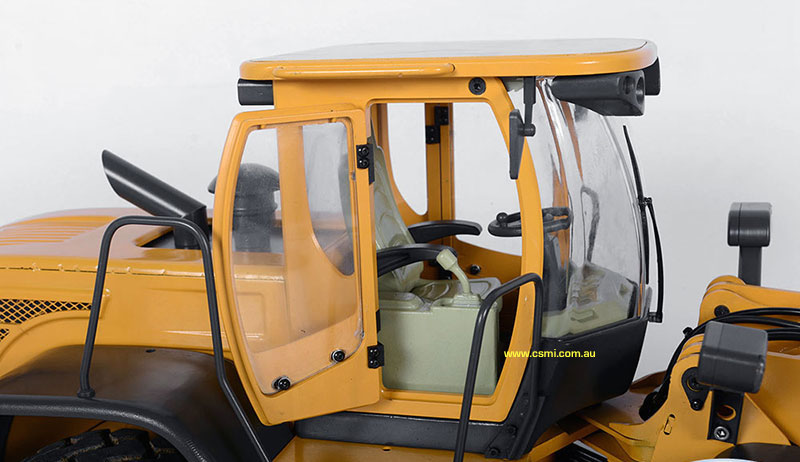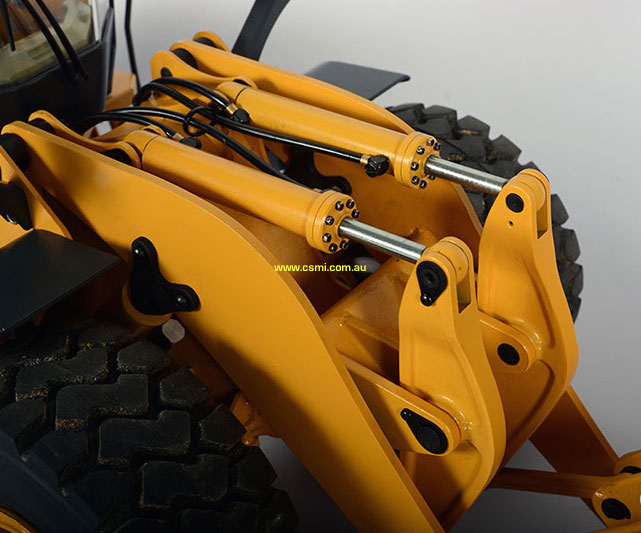 THE FOLLOWING ATTACHMENTS ARE ALSO AVAILIBALE AS A ADDED OPTION
.
Scale
1/14 RC Scale
RC Wheel loaders