Sound + Speed Controller SFR-1
Sound + Speed Controller SFR-1
Price:
$239.00
Ex Tax: $239.00
Brand:
:
CSMI
Product Code:
SFR-1
Availability:
In Stock
Available Options
---
Tech Support LVL1 (+$51.88)
Freight Must be selected (+$12.00)
Freight Must be selected (+$35.00)
Scale
1/14 RC Scale
sound modules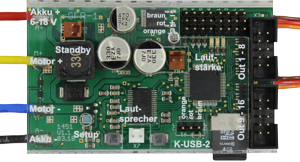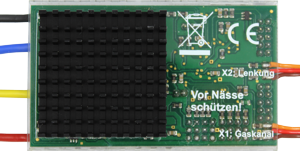 The SFR-1 at a glance:
Combination of sound module, speed controller and light control unit
Much easier connection and easier programming than with separately sound module and speed controller
Suitable for all types of RC models with one motor and a commercial remote control
Individually programmable and suitable for all model types
For brushed and bell-armature DC motors
Supply voltage: 6 - 18 V
Max. motor current: 30 A
Powerful BEC with 5,6 V, 3 A
Inclusive 700 sound files for speed dependent motor, additional and random sounds
Use of own recordings and songs possible
Powerful built-in amplifier for optimal sound quality
6 proportional inputs to control sound, speed controller, light and servo functions
Up to 16 channels via the sum signals S-Bus / SUMD
16 switching outputs for LEDs, lamps, smoke generators, relays, etc.
Free programmable light and sound sequences
2 programmable servo outputs to control additional movements and mini speed controller
Adjustable speed control functions: load regulation, cruise control, mass and steering inertia and different brake functions
Description
The SFR-1 is a multifunctional module and combines thesound module USM-RC-2 and the
speed controller UFR-1230 in one unit. It comes with a large light control unit, three servo outputs and an infrared port for the light module SM-IR-16-2, to transmit light signals to a trailer.

The SFR-1 is suitable for all types of RC standard transmitter. With the various setting options the SFR-1 can be easily adjusted to all model requirements and driving behaviours. For an easy start we have more than 140 ready to use sound projects and 700 sound files for various model types. Of course, own recordings can be used, as well.

Sound functions:
For an authentic sound of the model, sounds can be selected for following areas:
Driving and engine sounds for one motor (speed-dependent)
Additional sounds (e.g. horns, hydraulic and compressed air noises)
Random sounds (e.g. squeaking, animal and ambient sounds)
Driving functions:
One brushed and bell-armature motors (DC) can be controlled smooth and realistic with the SFR-1. An ideal driving behavior can be achieved through a large number of settings.
The speed controller on the SFR-1 has following characteristics:
Cruise control functions
Different brake functions (with hand- and emergency brake)
Adjustable load regulation
Adjustable mass inertia
Steering inertia (with adjustable steering ankle limits)
Adjustment of throttle curve for different driving behaviors
Light functions:
To realize different light effects, the SFR-1 has 16 switching outputs to connect LEDs, lamps, smoke generators and other consumers. Light functions, such as low beam, rear light, brake light, indicator lights, warning lights, flickering lights, etc. can be easily implemented and controlled.
All light functions can be activated or deactivated manually with a proportional channel or with
nautic/multiswitche modules
and automatically by sounds and movements.
The SFR-1 has a special infrared port to connect the IR transmitter diode for the
light module SM-IR-16-2
.
Servo movements:
With two additional servo outputs, movements can be synchronised to the played sound
Technical data
Supply voltage (Ub):
6 – 18 V DC
Power consumption:
Quiescent current: approx. 1 mA
Standby current (sound, motor and outputs off): approx. 80 mA
Motor current:
max. 30 A continuous current, 60 A short time (1 minute)
BEC voltage:
5,6 V
BEC current:
max. 3 A continuous current, 5 A short time (10 seconds)
Proportional inputs:
6 channels (1,000 - 2,000 ms)
Supported protocols:

PPM / PCM (1,000 - 2,000 ms)
Sum signal S-Bus (max. 16 channels)
Sum signal SUMD (max. 16 channels)
Nautic / Multiswitch / Multikanal / EMS

Servo outputs:
3 outputs (1,000 - 2,000 ms)

Servo output for steering
Servo output 1
Servo output 2

Switching outputs:
16 outputs (npn – open collector), max. 1,5 A per output, the total current of all outputs is not allowed to exceed 3,0A
NF amplifier:
20 W
Loudspeaker:
4 - 8 Ohm
Volume setting:
With extra poti (100 kOhm) and/or by the radio
Memory for sound files:
Micro-SD-card (1 to 64 GB)
May. length of sound:
approx. 180 minutes per 1 GB
Supported sound files:
WAV-format, 8/16 Bit, Mono/Stereo, 22/44 kHz
Sound output:
16 Bit, Mono, 44 kHz
Number of possible sounds:

5 running steps/gears (internally in up to 255 steps accelerated)
8 change sounds between the running steps/gears
Turn on noise, turn off noise, starting noise, stopping noise, idling noise, brake noise, reverse engine noise, curve squeal, flashing lights sound
30 additional sounds (for example via prop.-channels)
8 random sounds (random generator)
30 tracks for WAV-Player

Random sound generator:
Times between 1 to 999s adjustable
Additional ports:

Programming interface for data cable
Port for infrared diode of light module SM-IR-16-2

Protection features:

Short circuit protection at motor output stage
Short circuit protection at switching outputs
Short circuit protection at BEC
Temperature monitoring
Battery voltage monitoring
Protection while switching on power supply
Failsafe for proportional inputs

Cables for connection:

For battery: 2 x 1,5 mm², length approx. 15 cm (with Deans T female connector)
For Motor: 2 x 1,5 mm², length approx. 15 cm
For receiver: servo patch 3 x 0,14 mm², length approx. 30 cm

Permissible ambient temperature:
0 – 60° C
Permissible relative air humidity:
Max. 85 %
Size:
81 x 49 x 23 mm (with SD card: 81 x 52 x 23 mm)
Weight:
86 g
Scale
1/14 RC Scale
sound modules