HIDROMEK HMK490 9 Valve
HIDROMEK HMK490 9 Valve
Price:
$10,090.00
$9,170.00
Ex Tax: $9,170.00
Brand:
:
HIDROMEK
Product Code:
HMK490 9 Valve
Availability:
In Stock
Available Options
---
HIDROMEK QUCIK CONNECT (+$595.00)
HIDROMEK QUCIK CONNECT (+$120.00)
Tech Support LVL1 (+$70.00)
HIDROMEK Extras (+$185.00)
HIDROMEK Extras (+$185.00)
HIDROMEK Extras (+$185.00)
Pre Order request (+$100.00)
RC light options (+$71.00)
Scale
1/14 RC Scale
RC Excavators
Important Note:Due to the size and weight of this product, this product has to be shipped in its own container. It will be shipped only by Expedited Shipping Service (5-8 days), this requires an extra shipping surcharge of $450 to ship to all international countries due to the size and weight.
Payment Information: Due to the value of this product, all customer must pay with bank transfer. When you check out, do not choose credit card or paypal, we will refund you. Make sure choose bank transfer instead. Feel free to email us if you have any questions.
Important Note:This product is for experienced R/C users. Not recommended if you just started with R/C.
These machines need skill for adjustments even after shipped from the factory this is the condition of sale.Please consider this carefully before purchase .
All RC models have come with 30 day warranty . Warranty will be covered only when supported by pictures videos .Claims will accessed by our engineering dept or makers department.These machines need skill for adjustments even after shipped from the factory this is the condition of sale.Please consider this carefully before purchase .If you do not have tools , Skills , RC knowledge, Ability to change damage spare parts IMPORTANT THIS MODEL IS NOT FOR YOU AS A BEGINER.
GOLD PACK : This serivce is for customer who have limited RC experience. The machine is checked and tested by us. A full function test Video is made showing all working functions. The gold pack does not cover damage to eletrical parts. Once shipped any replacement of parts can only be done once the machine is shipped back to us. The customer takes ownership of being able to replace any non functional part either by self or external source. The GOLD PACK is a secondary test option tested and documented by us for your satisfaction. If a fault is found during this test will fixed , retested and sent to you.
Orginal HIDROMEK HMK 490 LC HD 9 Valve
GEN Series Crawler Excavators given "IF product Design" Award by IF Design in 2012 are designed to meet customers' needs. HİDROMEK's Crawler Excavators come in between 14 tons and 53 tons operating weights options with their remarkable designs.
GEN Series 490 LC HD introduces innovations such as improved performance, ease of control and versatility. It allows the operator to have perfect command ability and reliability and ensures low fuel consumption, easy maintenance and operator comfort. Along with other pieces of equipment, it is the leader in its class.
GEN Series is the reflection of conception of "Creating the Operator of HİDROMEK" concept on HİDROMEK excavator product line. GEN Series's Cab, designed by considering the ease of use and giving users opportunity to be able to personalize their machines as well as their needs. Operators can adjust the components and all usage function - joystick consoles, operator's seat and armrests aconvenently as their working circumstances.
The Model HMK 490 LC HD 9 valves
General information :
The scale 1/14,5.
The crawler excavator is extrem highly detailed and powered.
Includes all the features of the original crawler excavator.
All the structure consists of high quality metal parts.
The working system is fully hydraulically identical to the original excavator.
4 possible variants; the basic-version (6 valve) and the additional-versions (7 – 8 – 9 valves).
Undercarriage length: 392 mm
Track width: 239 mm
Chain width: 52 mm
Height over cabine: 239 mm
Length with stretched boom: max. 1050 mm
Height with stretched boom: max. 770 mm
Digging depth with standard bucket: 430mm
Tipping height: 500 mm
Weight: 15.5 kg
Substructure:
Undercarriage 3mm steel, Laser cut and CNC turned and milled.
Undercarriage components, aluminum, steel, CNC turned and milled.
Double ball bearing chain tensioner made of heat treated steel and aluminum self-tightening & manuel
Chains: double grousers chain links made of zinc casting in perfect detail
Swing ring; 6 pieces, heat treated steel, zero clearance, high precision, 80 screw, 100% original
Superstructure
Swivel drive; axial piston hydromotor, 1/20rpm, heat treated steel gear
15 mm aluminum block CNC turned and milled.
Installation floor thickness 5mm
Superstructure body; steel, aluminum, stainless steel, brass
Superstructure body; 4 doors that can be opened.
Laser cutting, 100% scaled, special door hinges, cast railings, precision and high quality hand work.
Rear weight; CNC turned and milled from aluminum block
Driving cabin; CNC turned and milled from aluminum block and open door, detailed 100% scaled.
Driving cabin; multifunctional digital display, on&off switch
Boom; steel and brass, Laser cut, CNC turned and milled, hard solder.
Arm; steel and brass, Laser cut, CNC turned and milled, hard solder.
Mechanical quick hitch standard
Bucket is steel with casted bucket teeth
Drive System
Drive system axial piston hydromotor.
The hydromotor is consisting of 6 mm piston of 11 pieces
Planetary gear max speed 20rpm
Hydraulic System
550watt outrunner direct brussles motor
Working pressure ca. 30 - 35 bar
Pump : aluminum and hard steel CNC turned and milled.
Pump; high precision, special design, maximum silence, 40 bar
Pump; with transition metal pipe to valve block
Pump; integrated pressure relief valve
Pump; 1.3 liter per minute
Hydraulic valves made of 7075 Aluminum
It is operated by 5.5kg digital servos
Completely removable hydraulic cylinder with hard-chromed piston rods
Piston rods 6 mm in diameter
High pressure resistant, industrial type polyurethane felt
The oil tank made from brass, anti-foaming design, level indicator, 250 cc
Active cooling system radiator
The oil raditor is CNC turned and milled from aluminum block
Hydraulic oil temperature always remains constant
Electrics / Electronics:
Operating voltage 11.1V - 12V / 4500mAh NiMH battery or Lipo battery 3S 4000mAh – 3S 7000mAh
Lighting with super bright SMD LEDs in series: 2x arm, 2x on the upper carriage front, 2x on the cabin
Specially designed board with BEC 5A
Oled display screen, multifunctional ( pressure, voltage, ampere, light control, logo)
5.5kg high torque digital servo
60A ESC.
Scope of delivery:
o HMK490 LC HD - 9valves
o Standard steel buckets with cast brass bucket teeth
o Automatic quick coupler for attachments
o The delivery does not include batteries, remote control, receiver!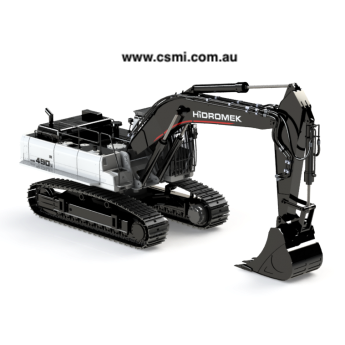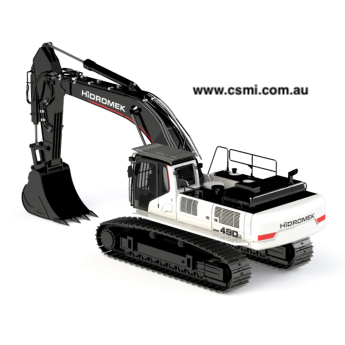 Scale
1/14 RC Scale
RC Excavators