C374FL Demolition-5 RC Excavator RTR
C374FL Demolition-5 RC Excavator RTR
Price:
$6,000.00
$5,000.00
Ex Tax: $5,000.00
Brand:
:
VOLVO
Product Code:
CAT 374F-5
Availability:
In Stock
Available Options
---
Tech Support LVL1 (+$70.00)
RC light options (+$71.00)
Scale
1/14 RC Scale
RC Excavators
Important Note:Due to the size and weight of this product, this product has to be shipped in its own container. It will be shipped only by Expedited Shipping Service (5-8 days), this requires an extra shipping surcharge of $450 to ship to all international countries due to the size and weight.
Payment Information: Due to the value of this product, all customers must pay with a bank transfer. When you check out, do not choose credit card or Paypal, we will refund you. Make sure to choose bank transfer instead. Feel free to email us if you have any questions.
Important Note: This product is for experienced R/C users. Not recommended if you just started with R/C.
These machines need skill for adjustments even after shipped from the factory this is the condition of sale. Please consider this carefully before purchase.
All RC models have come with 30-day warranty. Warranty will be covered only when supported by pictures videos.Claims will be accessed by our engineering dept or makers department. These machines need skill for adjustments even after shipped from the factory this is the condition of sale. Please consider this carefully before purchase.If you do not have tools, Skills , RC knowledge, Ability to change damage spare parts IMPORTANT THIS MODEL IS NOT FOR YOU AS A BEGINNER.
GOLD PACK: This service is for customers who have limited RC experience. The machine is checked and tested by us. A full-function test Video is made showing all working functions. The gold pack does not cover damage to electrical parts. Once shipped any replacement of parts can only be done once the machine is shipped back to us. The customer takes ownership of being able to replace any non-functional part either by self or external source. The GOLD PACK is a secondary test option tested and documented by us for your satisfaction. If a fault is found during this test will fixed , retested, and sent to you.
The machine is highly detailed with diecast parts.
Full brushless system
Bases on a OEM model
The machine is full RTR ( Ready to Run ) .
Complete crated with wooden box.
Needs a battery and oil as cannot be shipped with the new aviation rules.
Specifications:
Alloy Zinc and Alloy Aluminum Casting (except Hydraulic Pump)
Custom 10 Channel 2.4Ghz Radio
Preinstalled Light Sockets
Optimised Steel Hydraulic System
Alloy Zinc Molded Tracks
Heavy duty Undercarriage
Reliable 5 way Hydraulic Valve and Adjustable Pump
Heavy-Duty Hoses (OD 4.5mm Nylon, ID 2.5mm)
Undercarriage Rotates 360 Degrees (Endless)
Painted in Yellow and black
Massive Brushless System (Including driving and turning)
Hydraulic System 60A Brushless ESC, Driving and Turning System 30A Brushless ESC
270Kv Brushless Monster Torque Motor, Shaft dia. 3.0mm
XT60 Power Plug Female
Run Time: 20 Minutes based on 4200mAh, 11.1V Battery
Steel Machined gear Pump
Digging Force: 15kg / 33lbs
Max Lifting Force: 70Kg / 154lbs
Driving Speed: 360 Meter per hour
Scale: 1:14
Length: 823mm / 32.4in
Width: 234mm / 9.21in
Height: 260mm / 10.2in
Operating Oil Pressure: 2.5Mpa
Inside Cab Length: 4.72in / 120mm
Inside Cab Width: 2.55in / 65mm
Inside Cab Height: 4.21in / 107mm
Deadweight: appox 26Kg / 57lbs
30 Days Limited Warranty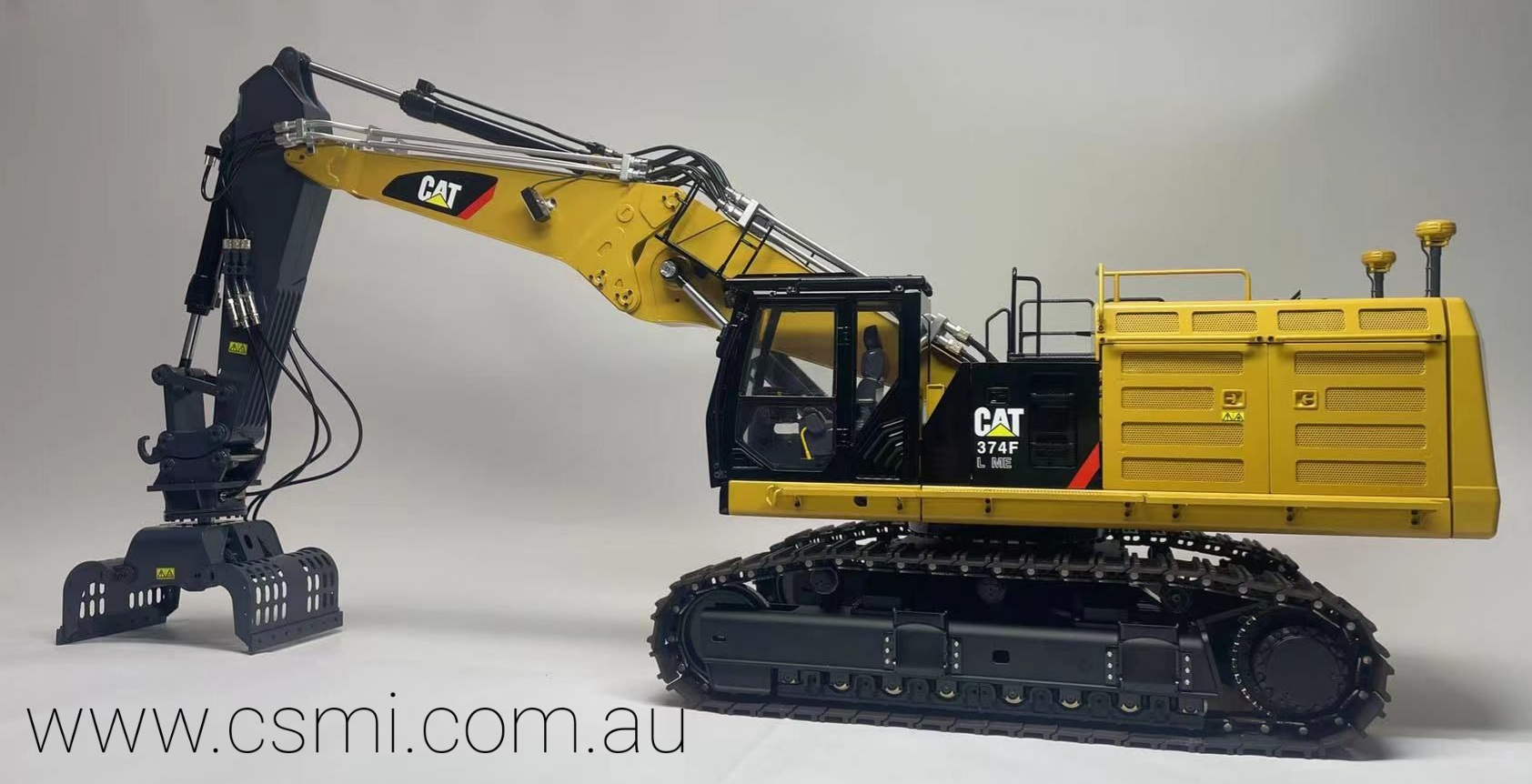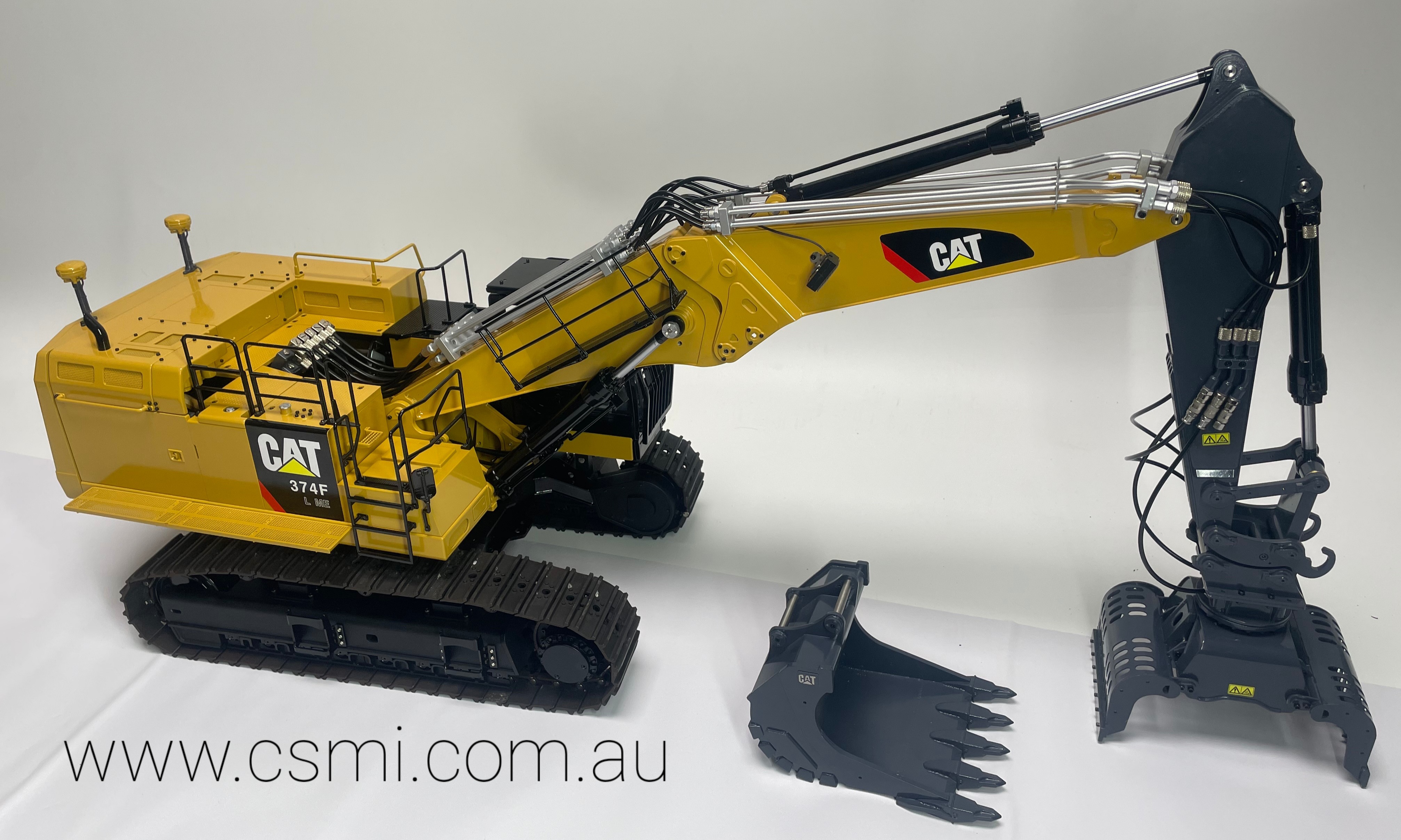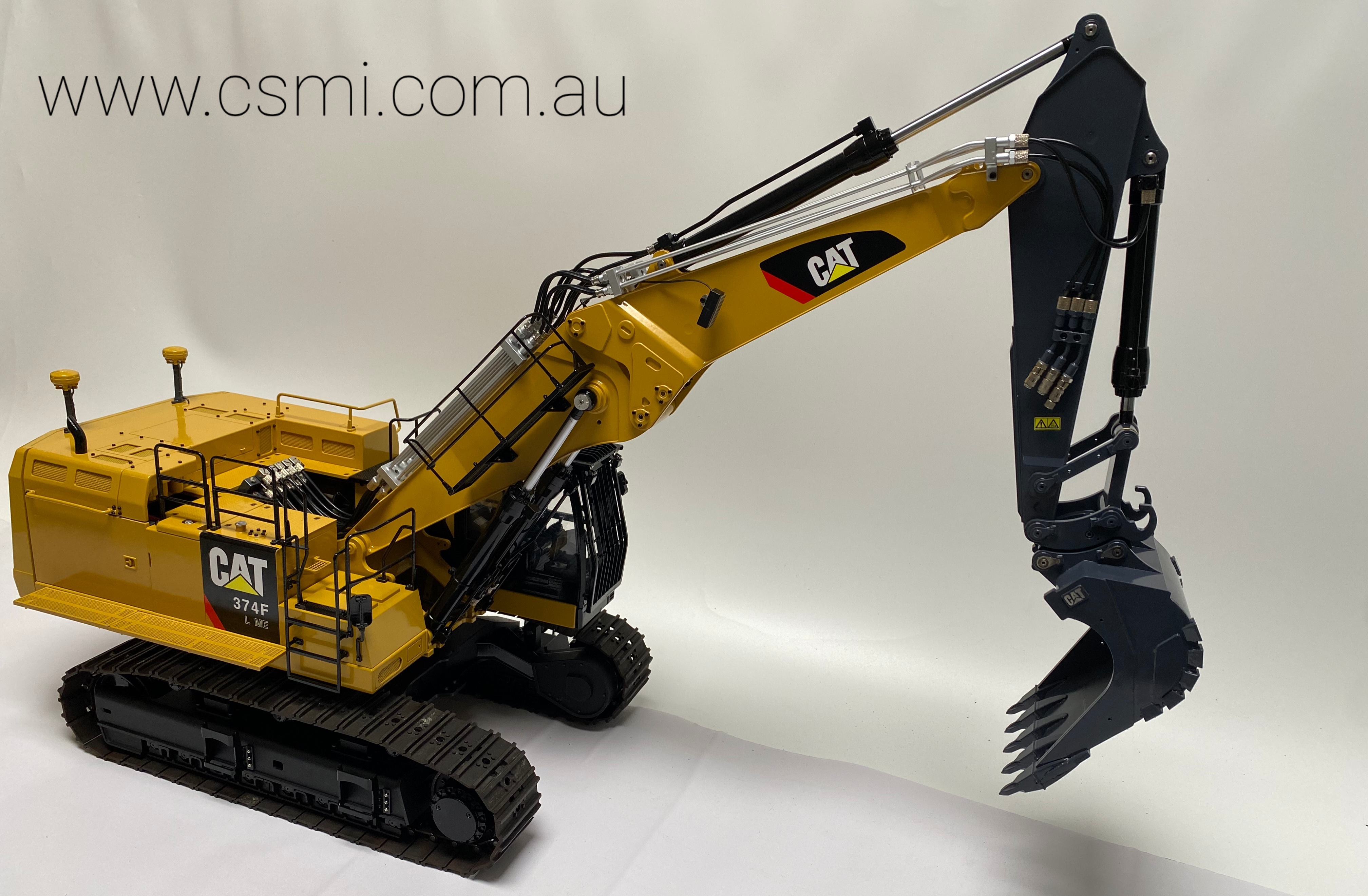 .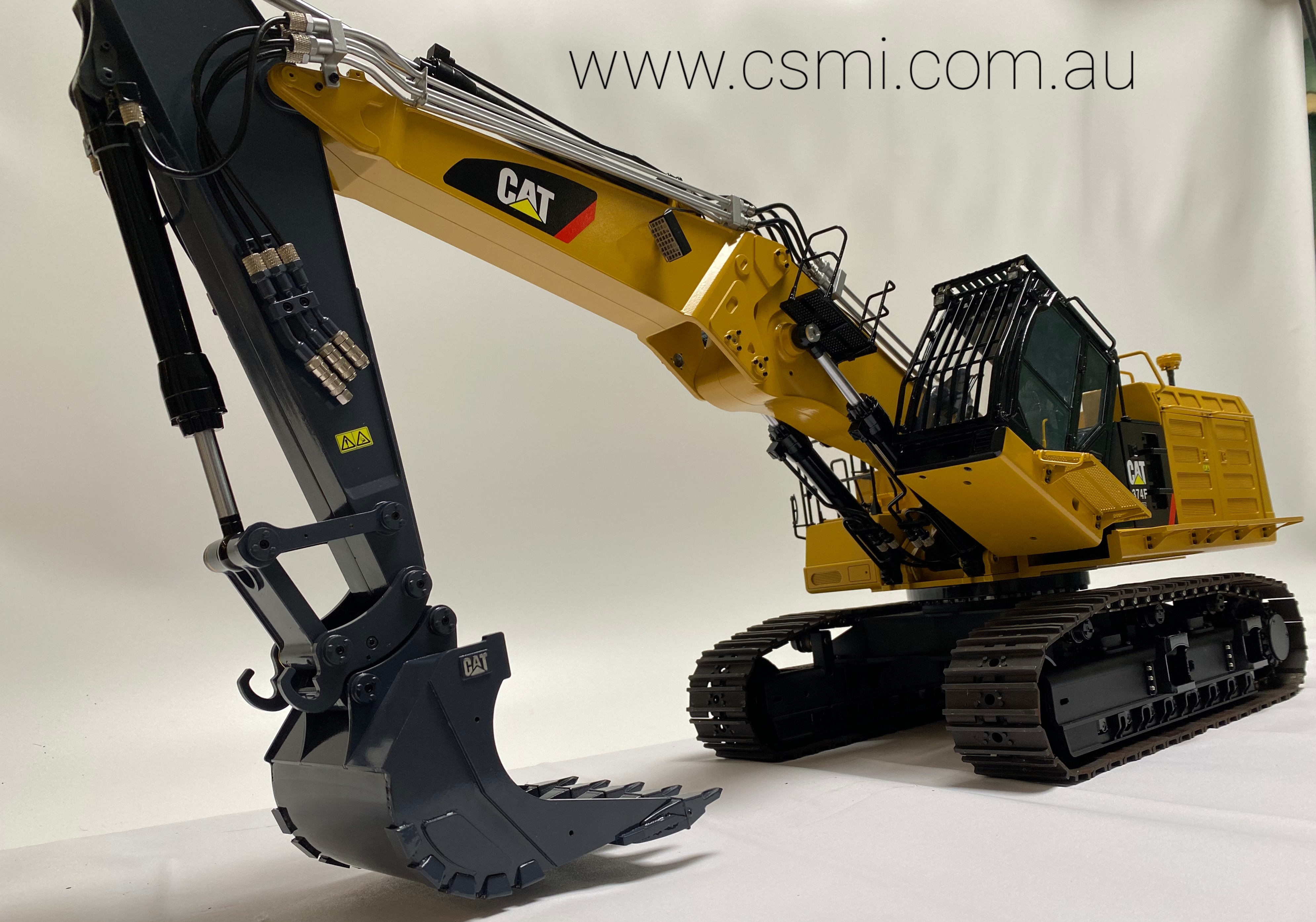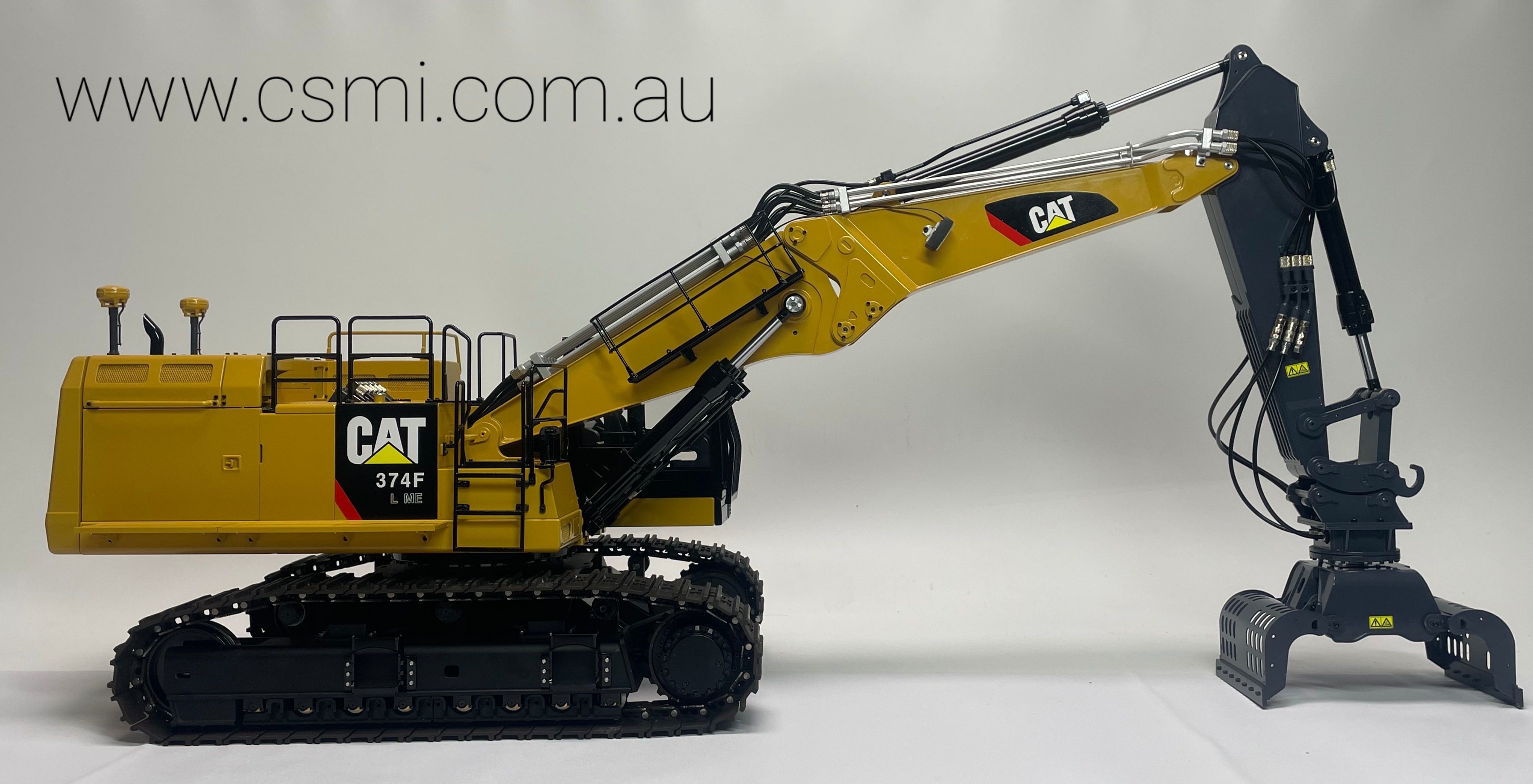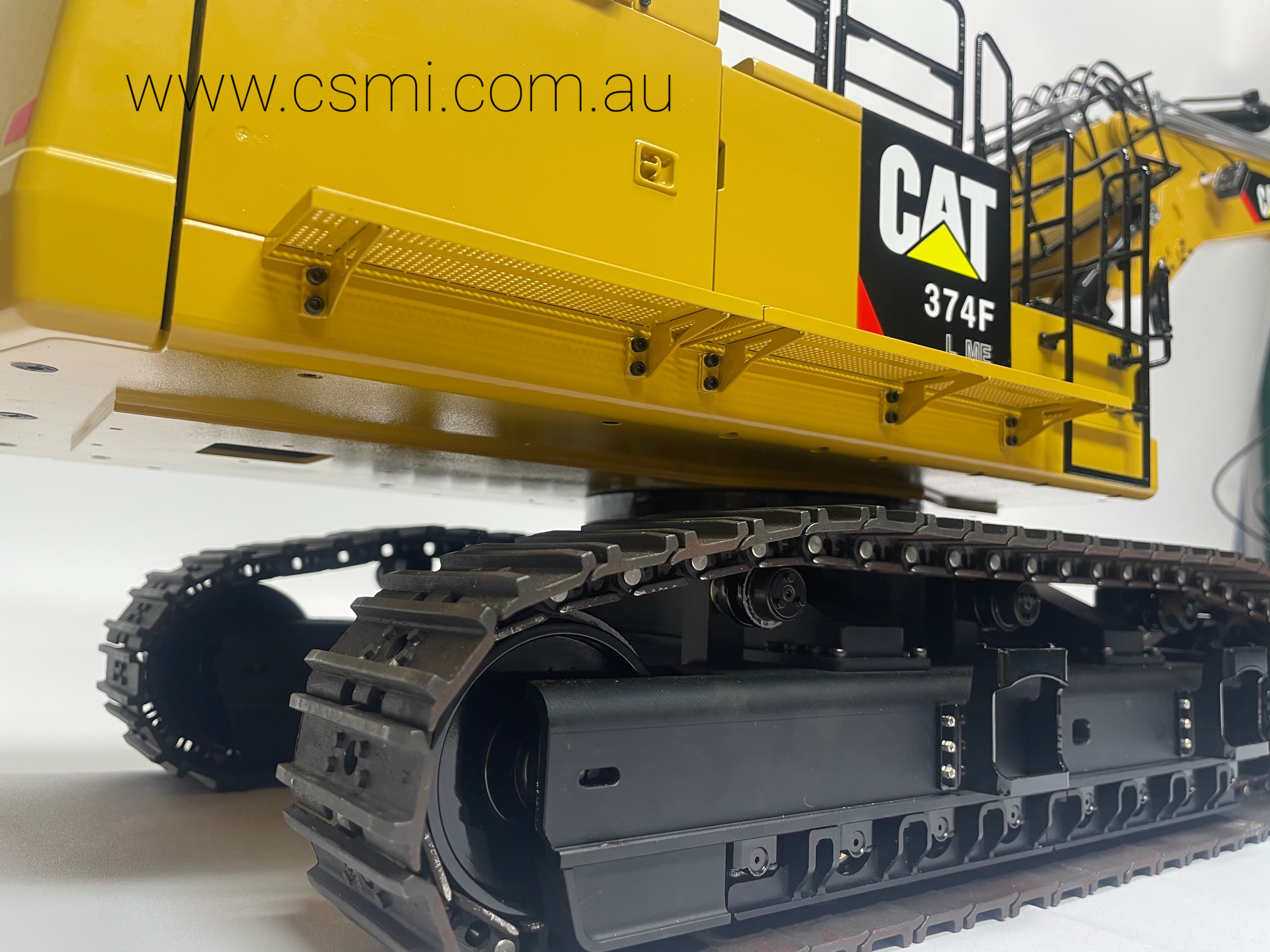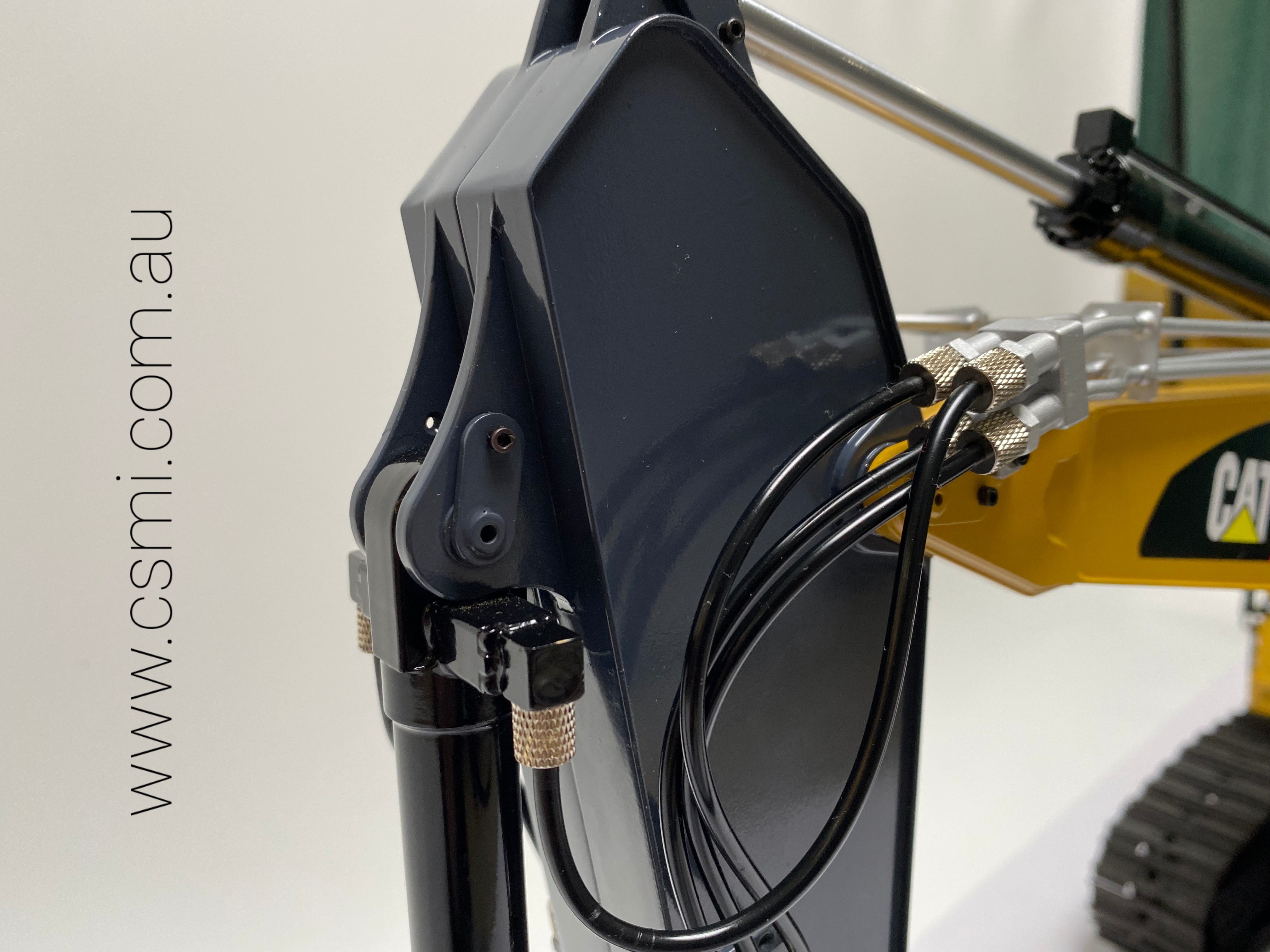 Below is a custom assembled model with a modified version complete with sound and ligh. A Futaba FX22 Radio has been used to control this model.
Scale
1/14 RC Scale
RC Excavators